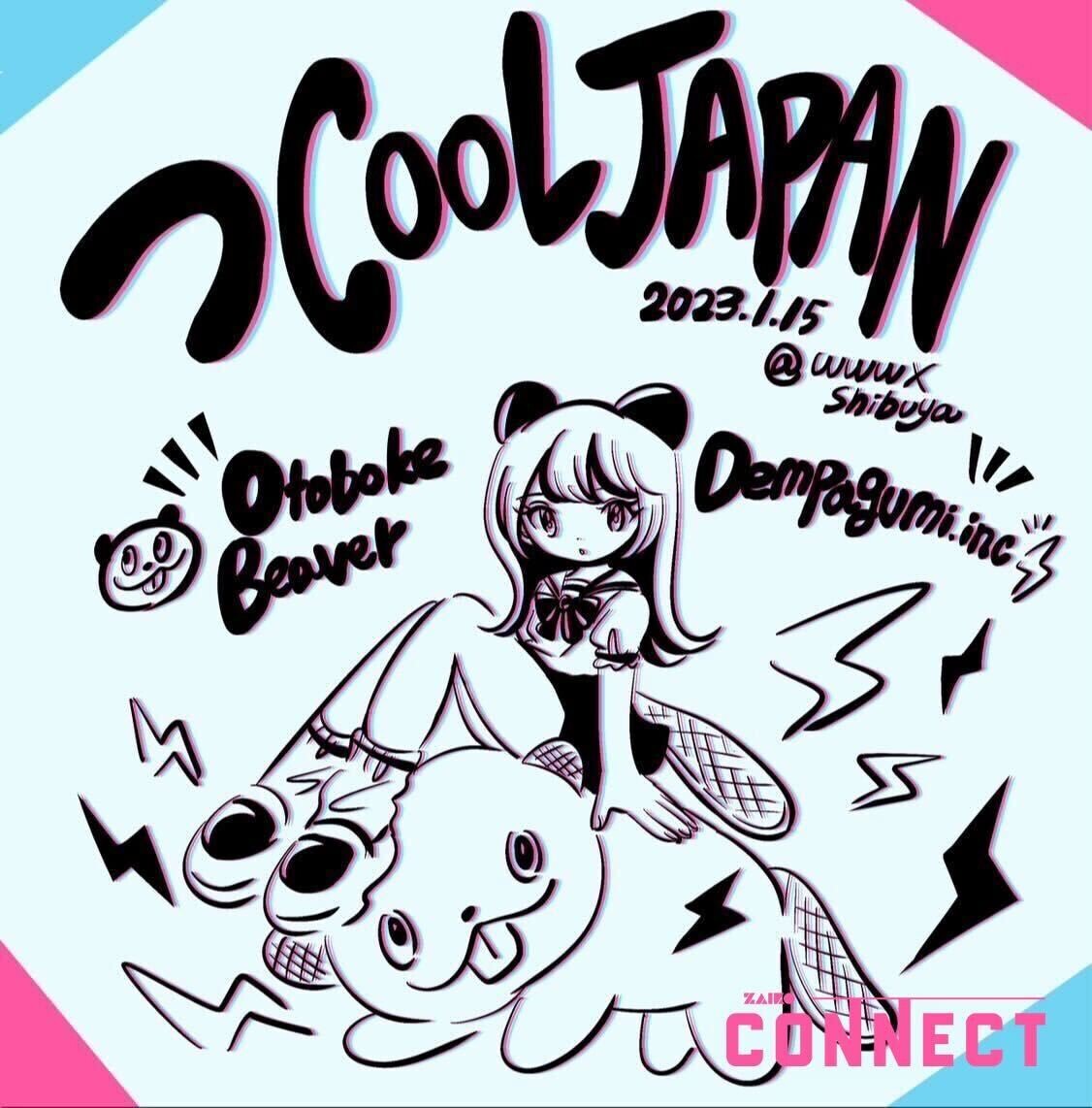 Otoboke Beaver And Dempagumi.inc Team Up For Punk x Idol Concept Show "つ Cool Japan"
2023年1月11日水曜日
Coachella-certified punk band Otoboke Beaver and rising domestic superidol group Dempagumi.inc. are kicking off the new year with a unique January 15th performance.
In an unlikely pairing, Dempagumi's nine-idol unit and Otoboke Beaver's four-piece punk band are joining hands for their first major performance of 2023. Fans are getting ready for an unforgettable night of punk and idol fusion as two of the hottest upcoming acts in the industry collide on stage.
"つ Cool Japan" Concept
On January 15th, WWW X Tokyo will be transformed into a high-energy, punk-fueled paradise as Dempagumi and Otoboke Beaver take the stage for an unforgettable concert experience. Otoboke Beaver's raw, unapologetic sound with electrifying live performances is set to clash with Dempagumi's polished choreography and catchy pop medleys. 
With an emphasis on "showcasing what modern Japanese entertainment has to offer", the Jyudai-Boudosha, Dear Stage and Zaiko production will incorporate the latest trends in Japanese entertainment including comprehensive membership-tiered engagement, concert chat, live NFT drops, an international FHD live stream that allows fans to attend from anywhere in the world and the ability to watch the show from a different angle after the show has ended.
Direct-to-fan experiences
Fans will be able to follow the latest developments on pre-show, live-show and post-show offerings via Otoboke Beaver and Dempagumi's social media channels as well as their community channels.

@otobokebeaver
@dempagumi
Details of exclusive physical and digital merchandise only available during the show as well as the different ways fans will be able to engage with artists during the show are expected to be announced closer to the event date. 
Live concert stream
Event organizers like Dear Stage have their sights on delivering the best-in-class fan experience. With the help of Zaiko, fans from anywhere in the world can now live stream concerts in Japan via a subscription concert streaming service called Connect.
Following the success of the latest Kyary Pamyu Pamyu, Morisaki Win, and Bandwidth Festival 2022 shows, Otoboke Beaver & Dempagumi.inc join a roster of Tokyo-based artists to make streaming tickets a default option for live shows.
"What began as a response to COVID is a trend that is here to stay" shared Kyary Pamyu Pamyu in an interview with Zaiko after her UMA105 10th anniversary Budokan tour. 
The "つ Cool Japan" show will be livestreamed internationally with FHD video and 320kbps HD audio for those unable to attend due to physical, geographical, budget, schedule or viewing preference-related reasons. 
Event details
Name:
Jyudai Riot Sha + Dear Stage presents "つCOOL JAPAN

Date: J
anuary 15, 2023 @ 5:00 PM

Venue:
WWW X Tokyo

Performers:
Otoboke Beaver / 
Denpagumi.inc

Tickets
Otoboke Beaver Profile
Motto: "Sex, Shibazuke and Rock 'n' Roll"
Otoboke Beaver is a Japanese punk rock band from Kyoto. The band's name is a play on the Japanese phrase "otokonoko beibā," which roughly translates to "stupid man." The group consists of four members: Accorinrin (vocals and guitar), Yoyoyoshie (guitar and vocals), Hiro-chan (bass and vocals), and Pop (drums).
Their music is characterized by fast, aggressive punk rock and lyrics that often deal with feminist themes and the challenges faced by women in Japan. The group is known for their energetic and chaotic live performances, which often feature vocalist Accorinrin and bassist Yoyoyoshie performing acrobatics and other wild stunts. Since their inception, Otoboke Beaver have released several albums and many singles that have amassed them a dedicated following in Japan and globally. 
In the last few years, the band has performed at popular music festivals like Coachella and Primavera Sound giving them even greater notoriety to punk fans around the world.
Dempagumi.inc Profile
Motto: "Deliver moe-kyun songs to the world"
Dempagumi.inc is a Japanese idol group from Akihabara known for their colorful pop performances and loyal otaku fandom. The group consists of Ayane Fujisaki aka Pinky, Risa Aizawa aka Risa-chee, Mirin Furukawa aka Mirin-chan, Rito Amasawa, Ria Kobato aka Riapi, Aozora Sorano aka Ao-nyan, Hina Takasaki aka Hina-chan, and Rin Kaname aka Perorin. 
Dempagumi's kawaii music combines elements of pop, electronic, and upbeat synth to reach the hearts of manga, anime and gaming fans. In addition to their music, the group is also known for their unique fashion sense and shiny stage presence, which often includes colorful costumes and elaborate hairstyles. Dempagumi.inc has gained a dedicated following especially in Japan where die-hard fans continue to support their every move.
They have collaborated with various creators including Mikio Sakabe for the Tokyo Collection, Mika Ninagawa and as an opening act for Takashi Murakami's solo exhibition in Russia.
Zaiko profile
Zaiko is an all-in-one entertainment platform for creators and their representatives. Events, communities, paid subscriptions, merchandise and more are managed in one place so stakeholders have a streamlined view of their marketing opportunities. 
Zaiko is also the only subscription-based concert streaming service that allows international consumers to watch live high-production entertainment at discounted rates.