Ticket Cancellation
I want to cancel my ticket. Is it possible to receive a refund?
As stated in the terms and conditions, all ticket sales are final. Policies defined by our clients prohibit ZAIKO from issuing exchanges or refunds after a ticket has been purchased without their consent, which is not routinely granted.
Also, please note that tickets cannot be transferred in a commercial transaction. If a ticket has been found to be resold or "scalped" it will be voided and the event organizer will be notified.
My event was cancelled. How can I receive refund for my ticket?
If you have used a credit card, PayPal, WeChat or Alipay, your purchase will be refunded automatically. No further actions are needed.
Refund Announcements
We will send an announcement to the registered e-mail address under your ZAIKO account.
Another announcement will be sent to the same e-mail address when the process has been completed.
Refund Process
The credit card, or PayPal account, used at the time of purchase will be automatically refunded, minus any associated charges (see below for details).
Refundable Amount
The refund amount is the face-value price of the ticket(s). Payment processing fees and service fees are non-refundable.
Refund Processing Period
Once the event organizer makes the official announcement it typically takes 30 to 60 days to complete the entire process. If you do not receive an email within 30 days of the official cancelation announcement,
please contact us.
Once you receive the 2nd, refund process completed email, please direct additional inquiries to your credit card company. Please be advised that it may take some time for the refund to appear on your credit card statement.
If you have made your purchase using
Convenient Store Payments
, you need to
log into your ZAIKO account
, click the ticket and fill in your bank/PayPal information in order to get refunded.
This has to be completed manually.

※ Please note that there is a deadline for refunds.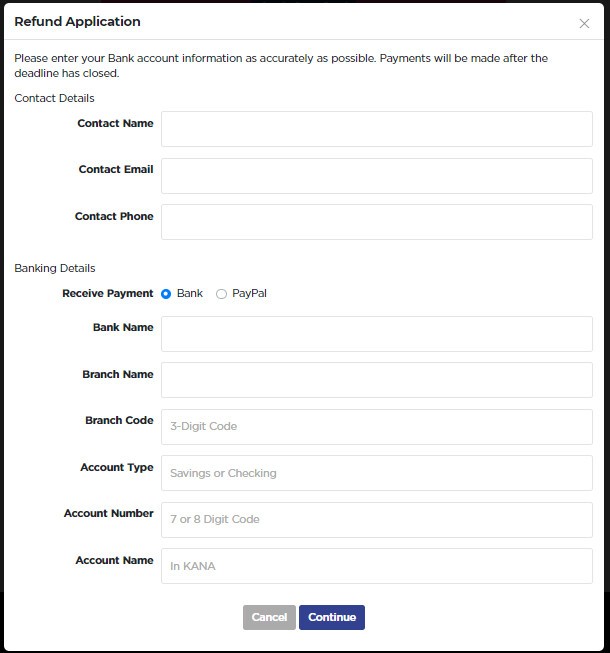 ※You will be able to revise the bank information until the deadline.

Due to emergency I am not able to attend the event, is it possible to cancel my ticket?
Due to our organizer policy, all ticket purchases are non-refundable. However, you have the option of transferring your ticket to anyone interested in attending. We apologize for the inconveniences. Click here to learn how to transfer the ticket.
Can't find what you are looking for?